Circulation Pump Optima
Over 60 years of Alarko experience in Circulation Pumps... ALARKO OPTIMA Alarko intends to improve the quality of life significantly by extending its range of products with innovative products with respect for the environment and higher performance as well as significant energy-saving features. The process of adaptation to the European Union ECO Design directives resulted in a real milestone for Alarko circulation pumps: namely Alarko Optima.
Major Benefits of Alarko Optima
Class-A Energy Saving
Ideal Performance
Reliability
Ease of Installation and Commissioning
After sales services and ease of supplying spare parts
Electronic-controlled
Meets SGM-2011/15 standard of Turkey and EC 641/2009 standard of the EC
Ideal Performance
Unlike the traditional single and three-speed pumps, Alarko Optima serves at the ideal operation levels continuously with three different modes of operation. And this results in high energy saving.

Safety
The compliance of Alarko Optima circulation pumps with the following standards and directives has been proven by the relevant tests.
• Machinery Directive 2006/42/EC
• Low Voltage Directive 2006/95/EC)
• EMC Directive 2004/108/EC
• Ecodesign Directive 2009/125/ EC
• TS EN 60335-2-51:2003 + A 2:2012
• TS EN 16297-1:2012
• TS EN 16297-2:2012
• TS EN 60335-1:2012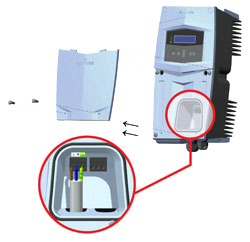 Ease of Installation And Commissioning
Alarko Optima circulation pumps are equipped with the connection box and connection sockets which help commissioning them rapidly and easily. These special connection sockets located on the control box allow the pump to be connected safely and rapidly without contacting the mains voltage and electronic systems.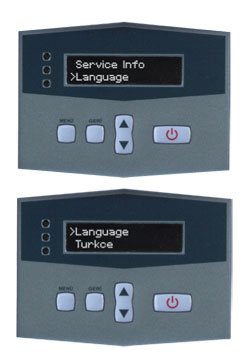 User Friendly LCD Screen
All controls and settings are performed with 5 buttons only.
• Two-line OLED screen.
• User friendly control system with Turkish software.
• English language support provided as standard in the menu.
• "Service info" feature which displays the latest 5 error codes and descriptions.

ECM Technology offers significant advantages when compared with other motor drive technologies.
• No external sensors and controllers are necessary.
• The motor runs at lower temperatures and generates less heat.
• The motor service life is extended thanks to the low level of tension at the motor bearings.
• The levels of vibration and noise are lower.
Yetkili Satıcı ve Servis Ağı
Lütfen işaretli alanı doldurunuz
Lütfen işaretli alanı doldurunuz
Lütfen işaretli alanı doldurunuz