Carrier 39HQ Airovision Air Handling Unit
Carrier 39HQ Airovision Air Handling Unit
39HQ air handling units are available between 2.000 and 125.000 m³/h air flow rate in 122 different sizes and have patented panel/profile design, high mechanical strength and thermal performances, smooth interior surface, standard 60 mm double skin sandwich panels and many accessories/options to meet every customer requirements.
Airovision series 39HQ Carrier air handling units are manufactured in Alarko Carrier, Gebze Factory which has ISO9001, ISO14001, ISO27001, ISO50001, OHSAS18001 and SA8000 certificates.
Mechanical performance classes according to EN 1886 standards:
» Thermal transmittance: T2
» Thermal bridging: TB2
» Casing air leakage: L1
» Mechanical strength: D1
» Filter bypass leakage: F9
Carrier air handling unit is number 1 in AHU category based on Turkish HVAC Exporter (ISIB) data for last 4 years in a row in years of 2013, 2014, 2015 and 2016.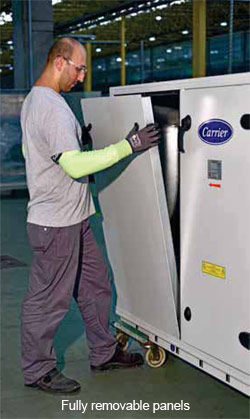 Body
The construction of the Carrier air handling units consists of a profile and panels. Profiled 1-mm thick casing sides of galvanised and coated steel plates ensure a rigid and lightweight frame. The profile holds a 60-mm dual-skin casing wall with panels, doors, inspection hatches and removable centre posts. The casing wall construction comes in several versions of steel plate thicknesses, material types and insulation materials used. The internal plating is always 0.8 mm thick. The standard casing wall construction GP080 consists of 0.8 mm internal and external plating with mineral wool (glass wool) in between.


Profile

Profile is important for the air handling units so much as the skeleton is important for the human body. Polyester powder painted galvanized steel structure with a thickness of 1 mm is used in Carrier 39HQ air handling units.
Screw holes are pre-drilled in the supplier and painted afterwards.
Density of zinc coating 225 gr/m² (Z225)
Clamped profile structure.
Imported from Europe.
All profiles are painted both inside and outside.
Panels

60 mm sandwich panel with double wall
Inner Plate: 0.8 mm
• Galvanized steel (standard) (zinc coating with a density of 160 gr/m² (Z160))
• or painted galvanized steel (zinc coating with a density of 225 gr/m² (Z225))
• or stainless steel (304 or 316)
Outer Plate: 0.8 mm or 1.25 mm
• Painted galvanized steel (standard) (zinc coating with a density of 225 gr/m² (Z225))
• or stainless steel (304 or 316)
Paint type: Pur-Pa (Polyurethane - Polyamide) powder paint. Resistant against 500 hours of salty water test.
• Colour code RAL 7035.
Heat Recovery Systems

Heat recovery systems are used for pre-conditioning the fresh air by using the energy of the exhaust air (by reducing the enthalpy of fresh air in summer time and increasing the enthalpy in winter time). Air thus pre-conditioned shall required less heating/cooling for the required supplying temperature and therefore, energy recovery shall be achieved.
There are many parameters such as initial investment cost, application type, sealing, efficiency, pressure drop, conditions of interior and exterior air, fresh air ratio etc. for the selection of heat recovery type. Heat recovery systems in air handling units are classified into 4 classes.
1. Wheel
2. Plate
3. Round Around
4. Heat Pipe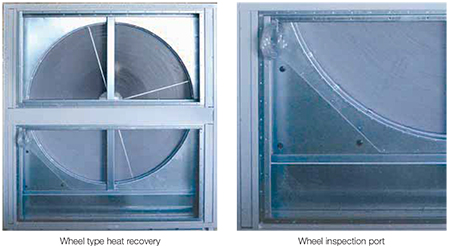 Wheel Type Heat Recovery
Wheel type heat recovery is also classified into three classes as per the heat transfer surface of the heat recovery wheel.
• Condensation
• Enthalpic
• Sorption
Coils

Heat exchangers used for heating, cooling and/or dehumidifying the air in HVAC systems are usually of the finned pipe type and they are called as coils. Air to be conditioned that flows outside of the finned pipes contact the fin surface. A heating or cooling fluid is circulated inside the pipes. Coils may be hot water coils, cold water coils, DX coils and vapor coils. As Alarko Carrier, we manufacture the water and DX coils used in our air handling units and rooftop units in our own coil workshop.

Besides that, coils can be supplied from other coil manufacturers based on business.
All water and DX type coils manufactured are tested with pressurized air test in the water pool inside the factory. Test and operation pressures according to coil and collector types are shown in the table to the right.
Automatic Control

Automatic control system that allows remote management of air handling units used for enhancing the air quality and quality of life in crowded areas such as hospitals, malls, hotels, educational institutions, business centres, banks, public institutions, cultural centres, theatres, airports etc. has also become an integral part of the air handling units. While it is possible to perform positioning or switching, automatic or manual operation of the components of the unit with this system, it is also possible to receive information such as faulty component, operation, dirtiness, freezing etc.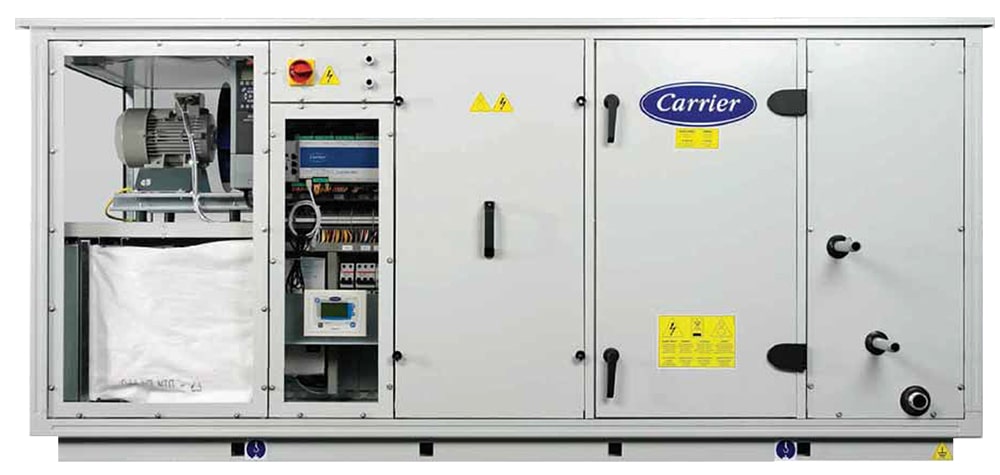 Also, this system allows monitoring of measurements such as temperature and humidity, air quality etc. on a single SCADA with the measurement equipment used. DDC Panel required for SCADA are manufactured as specific for each project with Automated Logic PLC boards with the assurance of Alarko Carrier so that they shall be environment-friendly, safe, light, easy-to-maintain, high quality and warranted. While, a Carrier brand, Automated Logic products and WebCtrl servers are used in building automation systems, these are also preferred for air handling units.
Technical Specifications:
• Provides solutions that offers plug & play operation by leaving the customer the requirement for power supply only,
• where the procurement, installation and testing of automated control equipments are completed in the factory,
• where automation software and testing of these software are completed in the factory,
• where the procurement and installation of MCC panels on air handling units are completed in the factory,
• where the procurement and installation of power and control wiring with terminal connections and the procurement and installation of trays are completed in the factory,
• where special cable conduits are used for projects that require high IP protection class,
• where ease of installation is provided with special connectors used between the air handling unit modules,
• where customer is correctly directed about operation and maintenance with the labels used and thus possibility of errors are eliminated, • and that are easy to install, practical and that make the life easier.
Certificates
Alarko Carrier San. ve Tic. A. Ș. is the pioneering and leading company of conditioning industry in terms of quality management system in it's Gebze and Dudullu Factories with ISO 9001, ISO 14001, EN 50001, OHSAS 18001 and SA 8000 certificates. Besides these certificates, Carrier 39HQ Airovision air handling units have the product certificates specified below.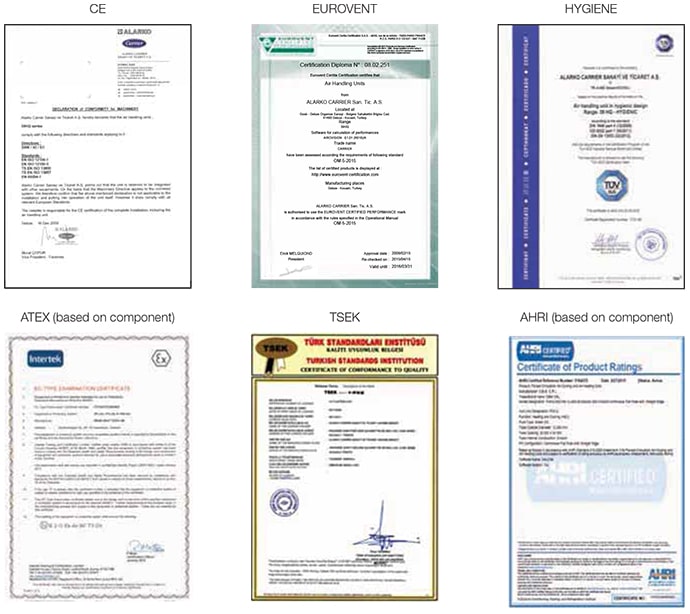 Tests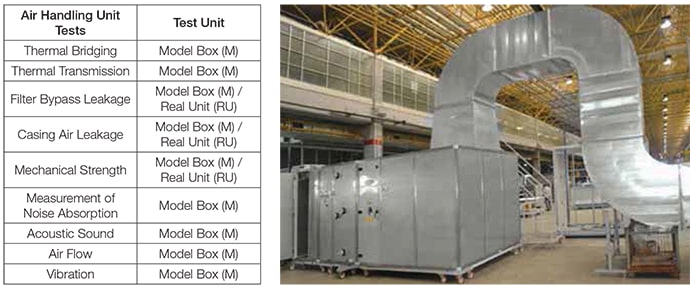 Besides the tests required for installation and manufacturing per component (coil leak, fan balancing etc.) for air handling unit, each unit is also tested for final quality control as a finished product in Alarko Carrier Factory.
Other than the standard quality control tests, both product development and performance tests and customer acceptance tests may be performed in great detail.
Yetkili Satıcı ve Servis Ağı
Lütfen işaretli alanı doldurunuz
Lütfen işaretli alanı doldurunuz
Lütfen işaretli alanı doldurunuz