Carrier 48/50 UA/UH Packaged Roof Top Unit (40 – 120 kW)
Carrier 48/50 UA/UH Packaged Roof Top Unit (40 – 120 kW)
The packaged roof top units are flexible and efficient air conditioners, designed for outdoor installations. The units are self-contained and can be installed in commercial and industrial applications.
The packaged rooftop units are flexible and efficient air conditioners, designed for outdoor installations. The units are self-contained and can be installed in commercial and industrial applications.

50UA/UH units are packaged roof top cooling units/feversible heat pumps, available with additional heating opsitons. (hot water coil or electric heaters)
48UA/UH units are packaged roof top cooling units/reversible heat pumps, factory fitted with a multi-stage gas heater.
Environmentally sound refrigerant choice
R410A refrigerant is
a chlorine-free refrigerant of the HFC group with a zero ozone depletion potential,
a high-density refrigerant, therefore less refrigerant is required,
very efficient: it gives an increased energy efficiency ratio (EER, COP and part load efficiencies).
Features

These new rooftop units integrate the latest technological innovations:
state-of-the-art scroll compressor technology,
low-noise fans made of composite material,
auto-adaptive Touch Pilot microprocessor control
Variable air volume supply fan optimizing energy consumption at full load and part load
Superior reliability, efficiency and safety
State-of-the-art concept
Reduced size and weight make these units ideal for today's lightweight building structures.
Rugged design of critical components. e.g. motor supports, suction/dischargepiping etc.
Powder-painted sheet metal, especially suitable for outdoor use (light-grey colour RAL 7035).
Exceptional endurance tests
Corrosion resistance tests for polyester powder painted galvanized sheet metal parts in salt mist.
Accelerated ageing test on components that are submitted to continuous operation: compressor piping, fan supports.
Low vibration design.
Transport simulation tested in real conditions.


Leak-tight refrigerant circuit
Using the latest refrigerant circuit technology for Carrier Aquasnap chillers:
Brazed refrigerant conneetions for increased leak tightness.
Reduction of leaks due to reduced vibration levels and elimination of capillary tubes.
Access to pressure transducers and temperature sensors without losing refrigerant charge.
Compressors
Excellent full and part-load efficiencies achieved with multiple scroll compressors and indoor coils with dual refrigerant circuits. The refrigerant circuits are both electrically and mechanically independent, to provide standby capability should one circuit require service. Totally enelosed outdoor fan motors are designed for many years of trouble-free operation.
increased energy efficiency at part load, around 99% of the operating time. Only compressors that are absolutely necessary operate. At these conditions the compressors operating are more energy-efficient, as they use the total condenser and evaporator capacity.
Low-noise scroll compressors with low vibration levels.
The compressor assembly is installed on an independent chassis and supported by anti-vibration mountings.
Dynamic suction minimizing vibration transmission.
Crankcase heaters are standard for ali units.
The electronic expansion valve in the cooling circuit provides a more reliable and efficient control of the refrigerant.
Outside condenser/evaporator coil section

Vertical outside coils made of high-quality staggered copper tubing, mechanically bonded in pre-coated corrugated aluminium fins, with high-level proteetion against corrosion and UV.
Latest generation low-noise Flying Bird IV fans, made of a composite material (Carrier patent) - now even quieter and generating intrusive low-frequency noise.
At part load or low outdoor temperatures the fan automatically switches to the low speed. The two-speed fan motor allows adjustment of the fan speed for optimized efficiency.
Defrost is optimized by the auto-adaptive algorithm. This and the new coil design reduce the defrost cycle duration by an average of 50%. For increased safety an electric heater prevents accumulation of ice on the air heat exchangerbase.
Ali pipes and refrigeration components are welded. Pressure sensors are mounted directly on the pipes.
Double-inlet indoor fans have forward-curved blades.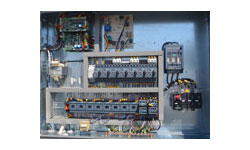 Simplified wiring
Electrical connections are simplified, and standard equipment includes a main disconnect switch and a single entry point of the three-phase without neutral power supply to the whole unit.
The units are fully wired in accordance with EN standards and include thermo-magnetic circuit breakers and a main disconnect switch.
Transformer for safe 24 V control circuit supply included.
Easy sensor connnections through seprate terminal.
Special relay to check phase sequence.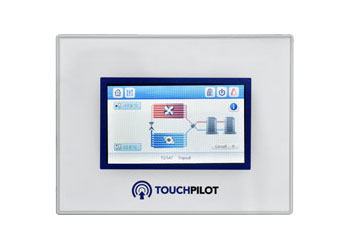 Touch Pilot user interface
Touch Pilot is an advanced numeric control system that combines complex intelligence with great operating simplicity. Touch Pilot constantly monitors ali machine parameters, optimizing the operation of compressors, fans and reversing valve for optimum energy efficiency.
Yetkili Satıcı ve Servis Ağı
Lütfen işaretli alanı doldurunuz
Lütfen işaretli alanı doldurunuz
Lütfen işaretli alanı doldurunuz